Taunton Lakes Neighborhood in Medford, NJ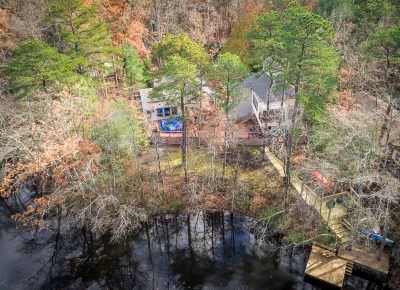 One of the hidden gem communities of Burlington County in South Jersey is Taunton Lakes in Medford. The community of a little more than 100 homes is also known as the Old Taunton Colony Club. Most of the homes are located on a pristine lake, where, if you look close enough, you will find homes situated within the natural Pinelands habitat. No two homes look alike and vary in style and size, but all the homes compliment the neighborhood scheme.
There is a rich history of this area that goes back to Revolutionary War times. Taunton Lakes evolved from an area that focused around iron works, making furnaces, forges, and cannon shot to an area of cranberry bogs that became the favorite place for local outings during the mid-1800s.
In 1920, a Philadelphia businessman bought the properties around the lake prior to the completion of the bridges over the Delaware River between Pennsylvania and New Jersey hoping to develop Taunton Lake into a satellite community of Philadelphia. World War II slowed the development of the community. Eventually remaining lots were sold to the Taunton Lakes Company formed by the local residents that also purchased the lake.
The homes on the lake can vary in price from the low $300,000 to the high $900,000 range. Being situated on the lake will also add to the value of your home. It is common to see ducks and turtles swimming past your dock while watching the sun rise or set depending on which direction your home faces. Families enjoy water activities at the beach or off their respective docks. It is a great lake if you enjoy open water swimming, especially if you are a triathlete that would like to swim at least a mile.
Taunton Lakes in Medford is located in the Lenape Regional School District where public school students will attend Shawnee High School. It is nicely tucked away from typical Philadelphia suburb congestion, yet it's easy enough to access great shopping and dining on NJ Routes 70 and 73 in the direction of Cherry Hill and Marlton. It's ideal quiet and convenient living, and we believe you'll love it here!
Find Out More About The Taunton Lakes Neighborhood!
Are you looking into buying a beautiful home in Taunton Lakes? Reach out to Eric Schlamowitz today or use the form below to contact us…we can help you find the ideal home for you in the area!